Kool Stuff
Since 1999 we have been creating unique and memorable targeted marketing solutions for our clients.
Whether you're a Fortune 500 company or an emerging business, imprinted promotional products offer lasting value that are more cost effective and accessible than conventional advertising.
When you work with us, you can expect the highest level of:
· Quality · Reliability · Value · Product Selection · Originality
From our years of experience, we will identify the right product that's most effective for your promotional needs:
> Executive Gifts > Incentives > Product Branding > Direct Mail Programs > Sales Support > Events and Trade Shows
Search our online database or contact us. We can e-mail a presentation to you of photos and prices from our database.
Local Favorites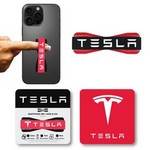 SlingGrip Phone Grips - Universal for De...
SlingGrip is a patented universal Smartphone grip that attaches to any phone or case to give secure one-handed control and extended thumb reach. Fits any phone or case with a peel-n-stick 3M removable...
$2.49 - $2.99
Signature Showrooms